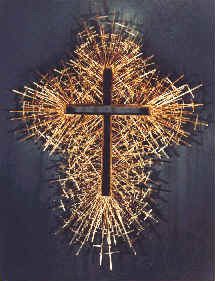 Bronze Cross
The large bronze cross that hangs over the sanctuary of the Church was commissioned by Father Davidson of artist Mark Read of Farmington Hills and was installed April 7,1989. Bronze Cross photo courtesy of Mike Friend
Following are facts of interest:
Dimensions: 15 feet x 11-1/2 feet
Number of Crosses: 689 (includes center cross)
Weight: 800 pounds – Number of screws: 806
Number of silver brazed joints: 3,440
Number of welds: 1,535
Number of hours to complete: 3,500 – 4,000
Stations of the Cross
Hand carved in Italy – purchased through A. Mateja Church Supply in Garden City – purchased by parishioner donations.

Main Tabernacle
Our main tabernacle was discovered in Mexico City, while on a pilgrimage, by Fr. Steve Wertanen, pastor, and the funds were donated by a very generous parishioner. After months of waiting and shipping delays, it was finally introduced on the Fourth Sunday of Advent 2021 because the Gospel readings speak of Mary impregnated and carrying the Lord. She is the original tabernacle of our Lord, and since she carried the presence of Jesus, she is often referred to as the Ark of the Covenant.

The Presence of God is truly in our midst! Please pray fervently that all who come to celebrate Mass with us at St. Anastasia will be filled with peace, joy and a new conviction of following our loving Lord and Savior, Jesus Christ!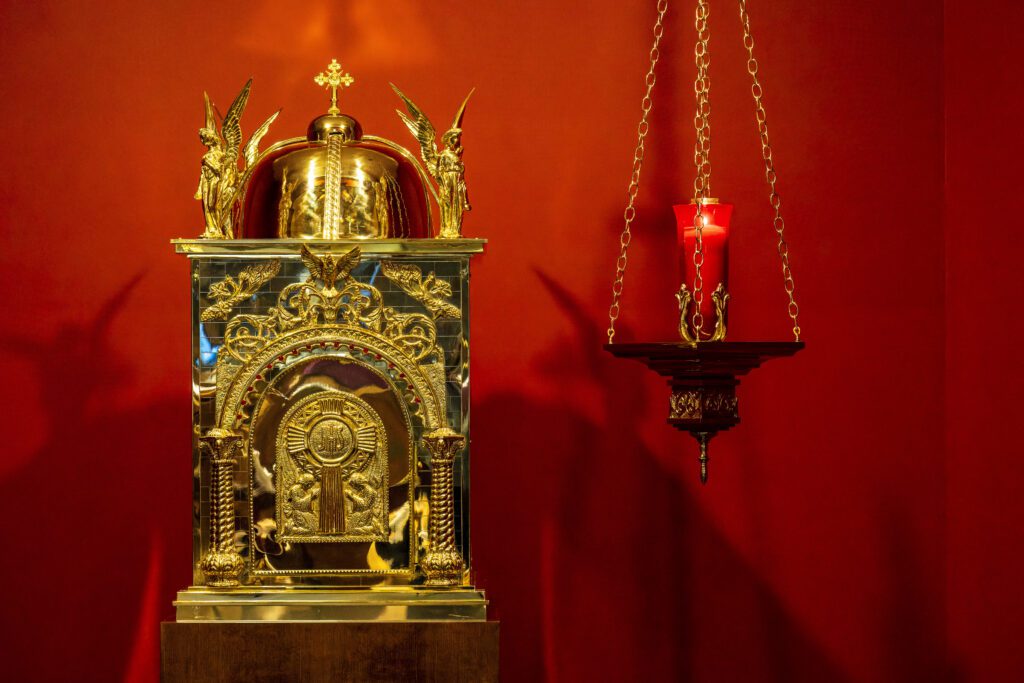 Faceted Glass Windows
Original windows – Hopfensperger Studios, Inc. – Grand Rapids/Midland
Added during renovation: Anchor Glass – Detroit