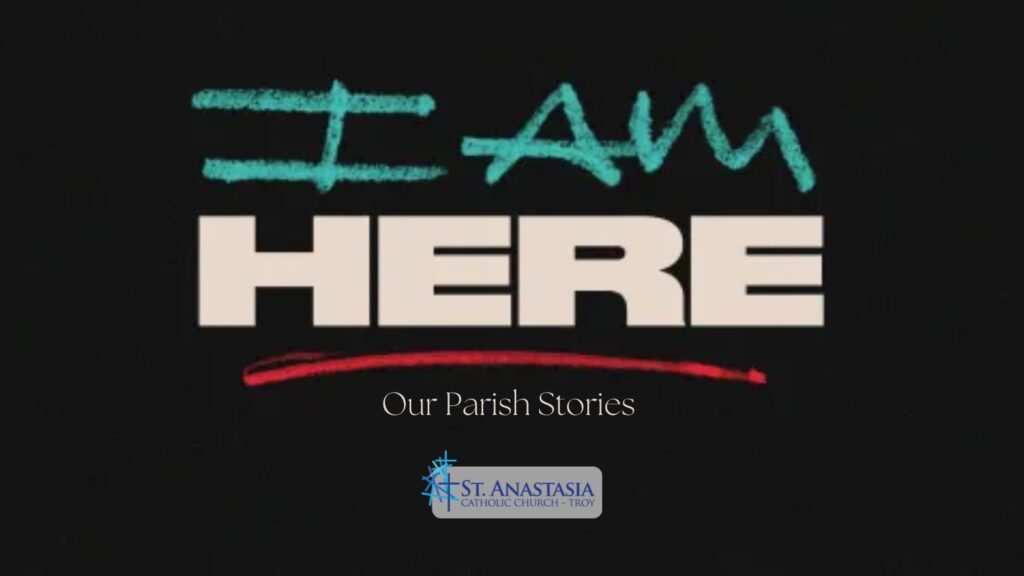 "The Eucharist has the power to transform the world, if we allow it to transform us."
You are never alone. In your brokenness, sorrows and frustrations, Jesus wants to say to you, "I am here".

In June of 2022, the Archdiocese of Detroit and Hallow App launched the I AM HERE campaign to inspire people to encounter Jesus Christ in the Eucharist and experience His transformational power.
I AM HERE will feature stories from individuals who have been transformed by their encounters with Christ in the Eucharist.

We, at St. Anastasia, have our own parishioners who have submitted their stories/testimonials (thank you!) They are highlighted on the website and below:


"GOD IS UNCHANGING WHEN EVERYTHING AROUND US CAN BE CHANGING SO MUCH"
Lea Wojciechowski Ross – Read more here.


"IT IS AMAZING HOW JESUS WITHIN US FINDS THE WORDS TO SAY"
Rich Bondar and Ron Deguire: Read more here.


"SOMETIMES GOD BREAKS THROUGH"
Olivia McCarthy: Read more here.


"IT WAS GOD SENDING ME CONSOLATION AND AFFIRMATION"
Anna Wojciechowski: Read more here.


"THE CLASSROOM OF SILENCE"
Josh Ross: Read more here.


"ME SIENTO CON PAZ Y CONTENTA AL SABER QUE JESÚS ESTÁ CONMIGO"
Blanca Gallatin: Read more here.


I AM HERE website.
Submit your story here.

Visit our Divine Mercy Chapel
Did you know we have a beautiful chapel that allows you to spend time in Adoration with Jesus?
More about our Chapel here.
You may just stop in … or you can schedule your time on our We Adore Him site.


More Inspiration
Follow I AM HERE social media on Instagram, Facebook, and Twitter.

In partnership with Hallow App, I AM HERE is also offering eight audio meditations written and voiced by
Julianne Stanz, a nationally known speaker, writer, and storyteller who serves as Director of Discipleship and
Parish Life for the Diocese of Green Bay, a consultant to the USCCB Committee on Catechesis and Evangelization,
and a member of the executive team for the National Eucharistic Revival. There is an additional meditation by
Bishop Andrew H. Cozzens, chairman of the National Eucharistic Revival. The meditations are designed to guide
the faithful in their prayers before the Blessed Sacrament and are available free of charge through the Hallow App.
More meditations will be added at a later date.