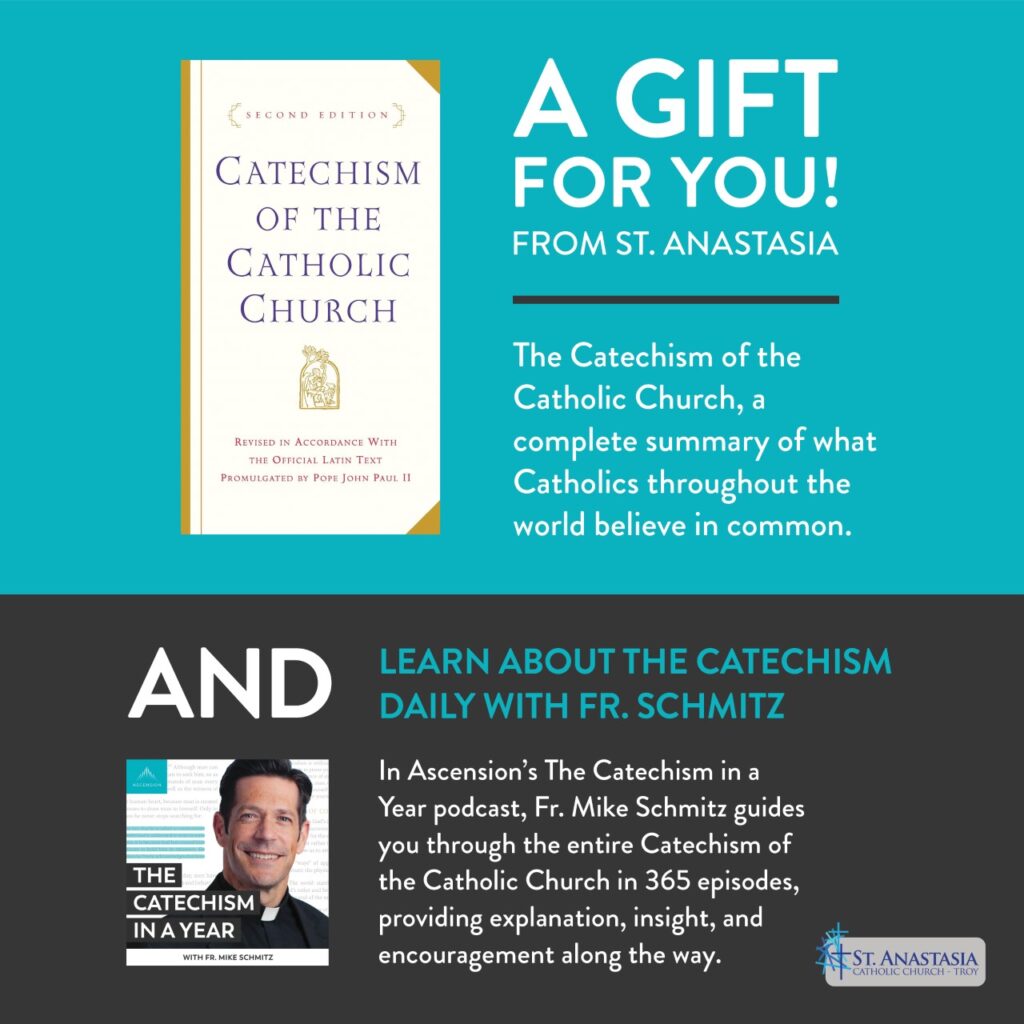 We hope you have received your gift from the parish that we gave away at our Christmas Masses – a Catechism of the Catholic Church (CCC)!*
The Catechism of the Catholic Church, is a complete summary of what Catholics throughout the world believe in common.

In addition to receiving the CCC, we invite you to discover even more about our faith by following along with Fr. Mike Schmitz, as he guides us through the entire CCC in 365 episodes (1 episode per day, approx. 15-20 minutes each), providing explanation, insight, and encouragement along the way. The Catechism in a Year podcasts with Fr. Mike Schmitz will include the entire Catechism of the Catholic Church.
Each episode will cover a section of the Catechism, highlighting key sections, explaining the context, and showing how to live out the teachings of the Catholic Faith in daily life.

"I strongly urge everyone to take advantage of this opportunity to learn more about our Catholic faith."
-Fr. Steve Wertanen, Pastor

Links and more information to follow Fr. Schmitz are below.

Here's how to get started:
Watch the "Must Watch" 1 minute video below.
Download the 'Reading Plan' (Not required – but helpful, link below).
Download or follow along on one of the suggested FREE apps (all links are included below) and search for 'The Catechism in a Year with Fr. Mike Schmitz' or follow along on his YouTube channel.
Journey with us – come to a 'Discussion Day':
Let the learning and understanding of our faith grow. Come to as many 'Discussion Days' (held in our Social Hall) as you can! Discussions on what we've heard from Fr. Schmitz will be led by either Fr. Steve, Fr. Jim or Dn. Tom. The dates for the entire year can be found below.
Bring a friend – All are invited to join us!
Questions? Contact Brenda Kozlowski, Director of Evangelization, Parish Life by email or call (248) 689-8380 Ext. 103

*If you are a parishioner and have not received your gift of the CCC, please contact the Parish Office (while supplies last).