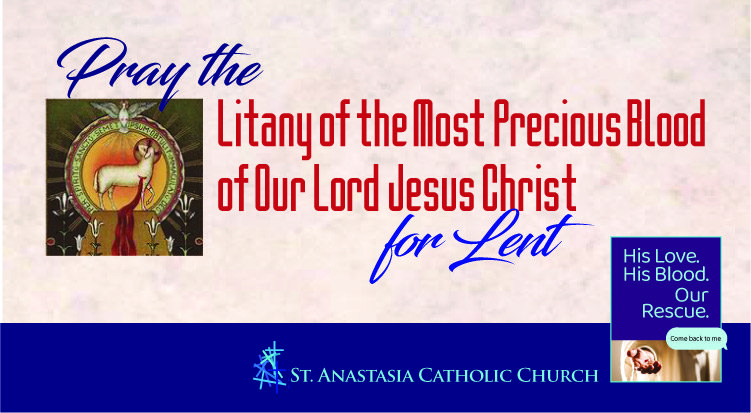 During Lent at St. Anastasia, we will reflect on the reality of God's love particularly expressed by the shedding of Jesus' Blood for us. We are valuable to God! We pray that all will embrace the invitation of Jesus' resurrection to be filled with life as we trust in the One Who first loved us. His love is pure!

As the world continues to belittle to importance of putting our trust in the love of Jesus, we pray that all the people we loved, those in our parish territory, in the world, and our very selves would not take for granted this profound expression of love and His desire to rescue us. May Divine Grace be given to us to respond to His invitation to make Him Lord in our lives.

Please pray the Litany of the Most Precious Blood of Our Lord Jesus daily during Lent. As we reflect on each line of the litany, may we cherish the depth of love expressed in Jesus' Passion and that we may be moved to follow Him with our whole heart.

May this Lent renew our hope in a loving God! Pray for all those who are away from the faith and that each of us would realize our need to be rescued by Love…by Jesus!