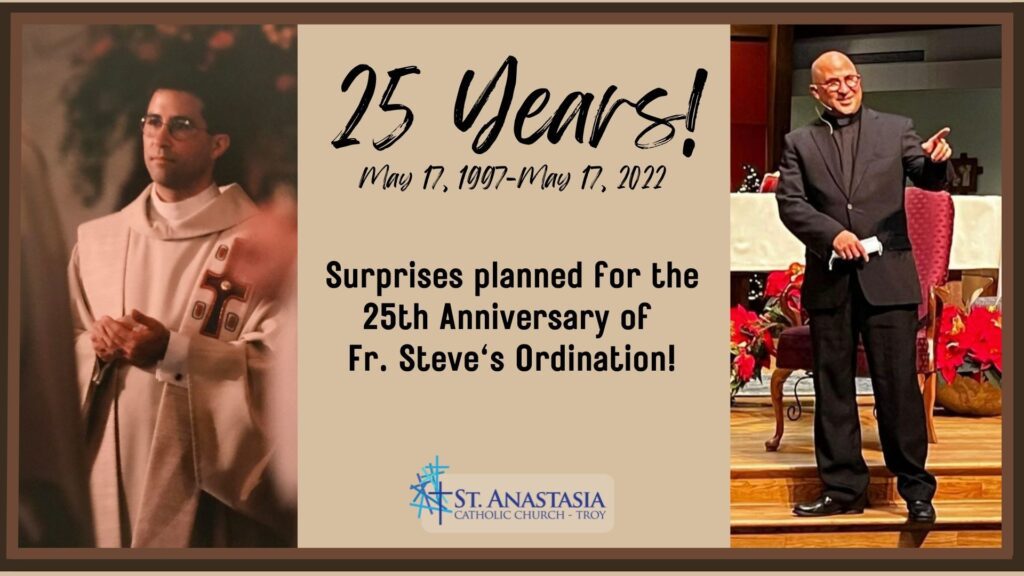 What a blessing it is to be able to celebrate with Fr. Steve Wertanen (our pastor) the 25th Anniversary of his ordination this year!

We have some special things planned and would love it if you would save the date, participate in some surprises and celebrate with us!

Fr. Steve's actual ordination date was May 17, 1997.

We will be celebrating his 25th together the weekend of May 21/22 with socials (in the Social Hall) after each Mass.
He knows about the socials.

Now for the surprises (Fr. Steve, if you happen to come across this link – please stop reading here – lol!)

For everyone else, please click this link to see how you can help make this milestone anniversary extra special! NOTE: To participate in the surprises, please do so by midnight THIS Wednesday, May 15.

If you have any questions, please contact Brenda Kozlowski, Parish Life by email or call (248) 689-8380 ext. 103.


YES! I would love to help at one of the socials! See here for more information.
YES! I can sign up to bring a food item. See here for more information.