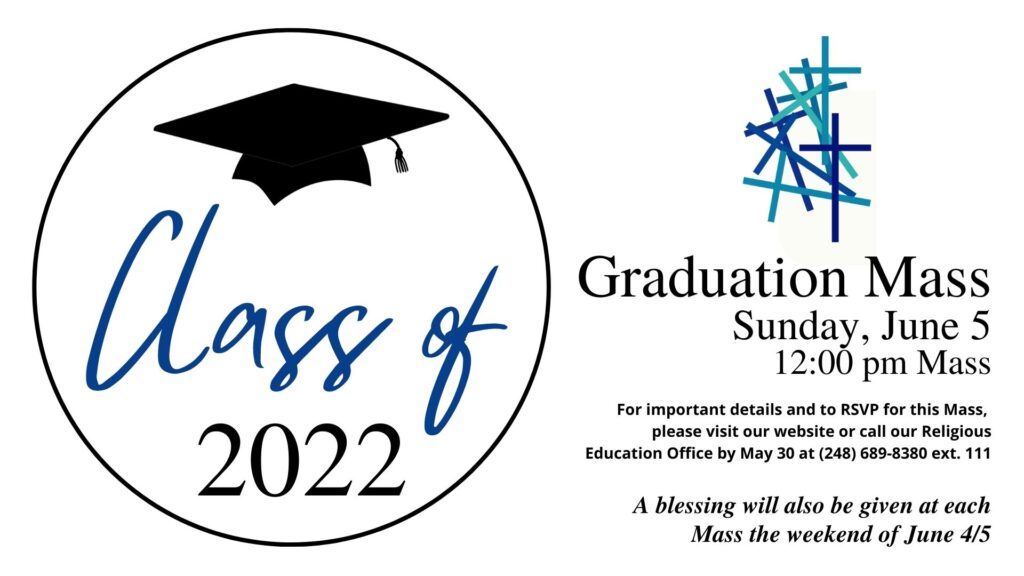 St. Anastasia Church Honors The Class of 2022

High School & College Graduates and their families are invited on
Sunday, June 5, 2022
for our Annual Baccalaureate Mass & Meal

The 12 pm Mass on this date, will be a celebration of the High School and College graduates.
The graduates will receive a blessing and a gift from the parish.

GRADUATES:
* Let us know you are attending by Thursday, May 26 by returning/submitting the below form.
*Submit your picture for our picture board (no later than May 26).
*Wear your cap and gown (and any cords you may have earned) for this Mass if possible.
*Arrive 20 minutes early and graduates head to the Social Hall prior to Mass so we may
process in together. All graduates will sit together in the front rows.


Immediately following the 12 pm Mass, there will be a celebration luncheon for the graduates and their families in the Davidson Center provided by our Knights of Columbus.

Turning in the form below or the online form will count as your "reservation".

If you are unable to attend the 12 pm Mass on this date, but are able to attend other Masses this particular weekend, grads will be asked to stand in their place for the blessing.
Please still fill out the form below—or the online form—so that we know how many we are celebrating!

Questions? Email Brenda Kozlowski, Parish Life or call (248) 689-8380 Ext. 103.