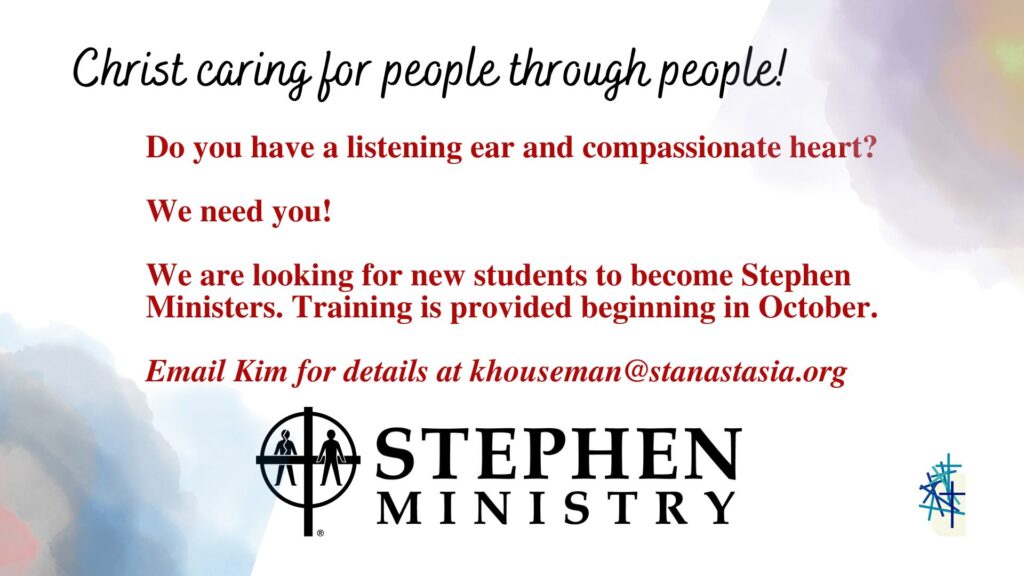 Did you know that 90% of our Stephens ministers are busy caring for care receivers?  We often do not have a Stephen Minister available to care for a new person who calls in need. 

We are prayerfully seeking new students to join the new class which begins in the fall. We need males & females at all ages, and levels of faith.
We train 3 times a month from October – April. 
We offer training on caring for a person who is going through challenges such as grief, job loss, marriage struggles, health issues, aging parents, and family crisis. 

Could you consider yourself a "Stephen" Minister and become a Christian listening ear?

Please consider joining our ministry.  I promise you will receive more than you give.

The Stephen Ministry is named for Stephen, one of seven members selected by the early church to care for those within their community who were in need.
Stephen's story is told in Acts, chapters 6 & 7. 

If you have any questions or are interested please email Kim Houseman.