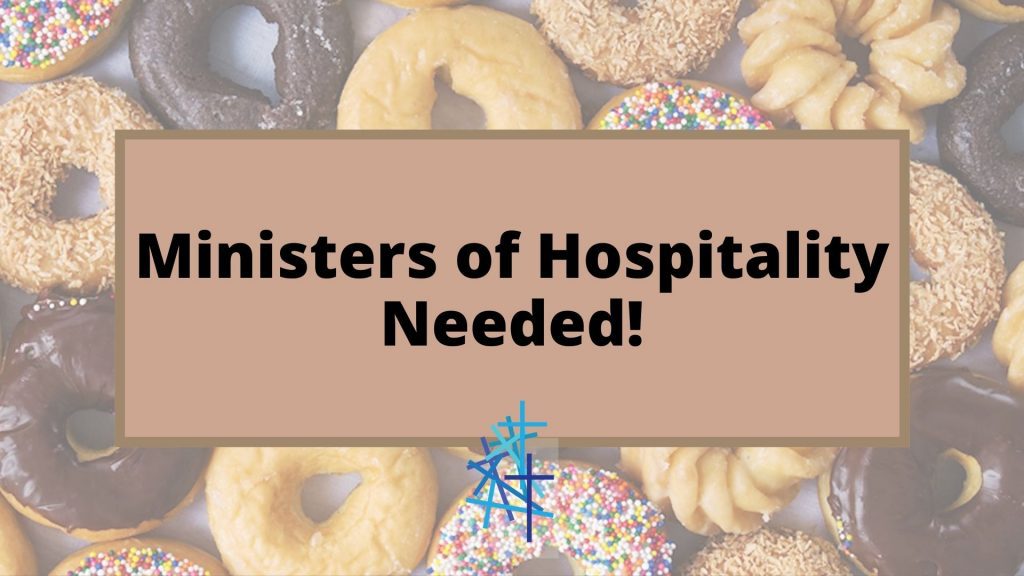 Do you miss our Sunday Coffee & Donuts yet?
We miss you!

For decades we, here at St. Anastasia, have served Coffee and Donuts after morning Masses. For those who have stopped in, you know … it's never been 'just' about the donuts, bagels, fruit or even the coffee or tea! It is a ministry unto itself. It's a ministry of hospitality and is felt by all those who stop in! Hundreds of people come in each weekend to enjoy a treat and some conversation.

There are volunteers who have generously shared their time and their talents over the years—and we cannot begin to thank you enough for your ministry thus far, and we pray you will continue to minister to our parish family again moving forward.

Looking ahead:
To continue this ministry WE ARE IN NEED OF MANY new volunteers (in addition to our existing volunteers) who will take a Sunday a month to serve.
Ideally, we would like 2-3 people per Mass (x2 Masses x 4 Sundays a month) and people who might be willing to sub in when needed … that's a lot of people needed!
We are hoping to get everyone 'in place' for as soon as we get the official 'go ahead' directives from the state and local officials.

Who can help?
We welcome all people who have a heart to serve/help! New people to our team are always welcome and we will show you the ropes … we also welcome back any past ministers whose time may have freed up a bit now.

Details:
Coffee & Donuts are usually on Sundays after the 8 am & 10 am Masses.
Ministers may select the day and Mass time they wish to serve at. The whole process takes about 3 hours … but that includes going to Mass!
A quick overview of service: arrive early, make the coffee, set up, (attend Mass) then come back in and serve and clean up.
The more volunteers we have for each Mass, the quicker everything goes.

Scheduling

Being on the schedule is simple! Just let us know your availability. As mentioned above, we are hoping people can help on a rotating basis of about once a month. You get to pick your Sundays throughout the year.


How to get involved or find out more information:
Right now, we are looking at the possibility of serving outdoors one time a month in June and one time in July (we need help in July) … and then we'll see how it goes from there, but we are getting our list together now so we are ready when we get the official 'go ahead'!

Will you help us and join our team? We need you!  For more information, to sign up, or to put your name on our 'maybe' list (we know it depends on scheduling at the time) please email Wayne Messing or Brenda Kozlowski, Parish Life.